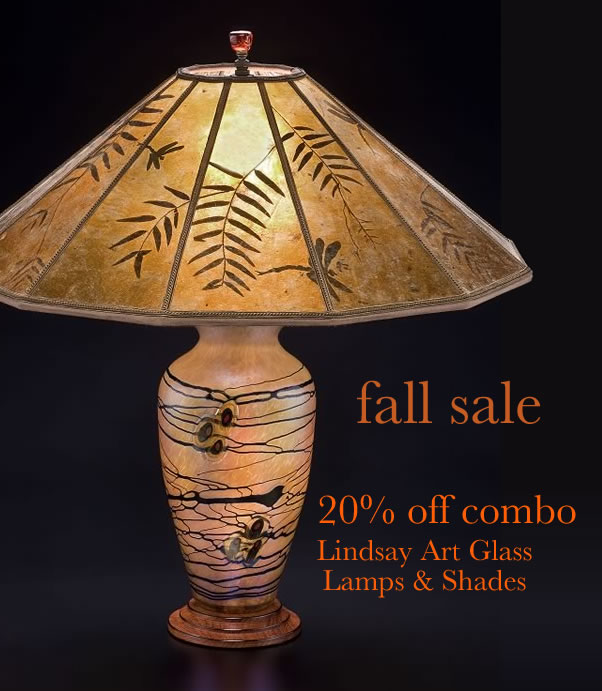 Our 2017 Annual Fall sale
begins Friday October 27 at noon and
ends Sunday November 5 at 5 pm.
Everything in the shop is marked down, plus we will have a super-discount table in the center of the main room.
Items on our site are also on sale, subject to availability, and provided that no changes are made to customize the lamps or shades. Often we need to make the shades, so there can be an 8-10 week wait before receiving your purchase.
NOTE: Lamps in our Archive Collection are no longer available.
50% off
We have a well stocked BARGAIN table in the center of the main room with lamps and shades discounted 50% and more.  We also will be selling donated items out front (weather permitting) to support our local food banks.
40% off
30% off
20% off
10%  off
Decorated paper & fabric shades
---
SORRY, THERE ARE NO DISCOUNTS ON CUSTOM SHADES OR ON WIRING AND ELECTRICAL REPAIR SERVICES.
Our Fall Sale ends Sunday,
November 5 at 5:00 pm.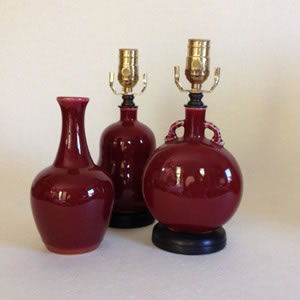 Small oxblood red lamps 40% off…
We have 3 different shapes of these deep red porcelain table lamps. They are extremely versatile, and look great with a number of different sizes and styles of lampshade, from simple white rice paper to mica with natural leaves. AND their sale price is $87.00!
SORRY, THESE LAMPS ARE NOT SHOWN ON OUR WEBSITE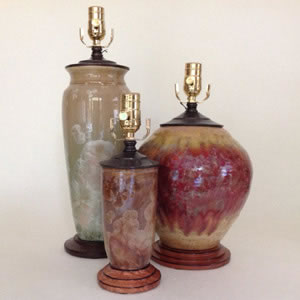 Jim Fox Pottery Lamps on sale…
We love Jim Fox's one-of-a-kind crystalline glaze vases, they go so beautifully with our mica lampshades. Rich golds and reds, subtle greens and russets, each lamps is unique. They come in various shapes and range in height between 9″ (the smallest in the photo here) and 24″ (not pictured) and are offered at 30% off during our Fall Sale!
SORRY, THESE LAMPS ARE NOT ON OUR WEBSITE