For more than 40 years we have been designing and making custom lamp shades. All of the unique lamp shades in our shop are made by hand by our staff of artisans. Generally any of our designs and techniques can be adapted to other sizes and shapes and decorative elements from your lamp, home or business can also be used to create a custom lamp shade that matches your decor or your vision.
From outside the area: contact us by phone, 510.527.2623 or fax, 510.527.2047 or email us at to begin a dialogue. We are happy to provide the same attentive service from a distance that we give to our local customers.
New Lamp Shades For Existing Lamps
It is more important to bring the lamps with you to the shop than to bring your old shades. There is a range of styles, shapes, colors and techniques that work well with each lamp, and our staff can better help you choose the best style if they have the lamp on site. It also may be necessary or desirable to update the wiring or make some other adjustment to your lamps in the process of getting new lamp shades.
From outside the area: Often people know what size and shape of lamp shade they desire (see below for determining size). If this is not the case we can work with digital photos and some crucial dimensions to suggest different options. The height to the bottom of the socket and the width at the base are the most important, but other information can also be useful (for example, the size of the table your lamp sits on, or the wattage you would like to be able to use). We are happy to send digital photos and simple sketches as necessary.
Lamp Shade Materials
Mica Lamp Shades
The mica for mica lamp shades is available in several colors and can be combined with various natural leaves, colorful liners, or hand-cut elements to create unique, custom lamp shades.
Fabric Lamp Shades
Several standard fabrics and papers are available at the shop. In many cases we can also use a fabric that you provide, however we need to test before proceeding with a custom order since there are some fabrics that do not work with our methods. For this there is a $25 fee.
Specialty Paper & Parchment Paper Lamp Shades
Parchment papers can be toned many colors, and stippled or shellacked. They can be combined with each other, or with other decorative papers and fabrics. We also make specialty hand-cut paper lamp shades.
From outside the area: We are happy to send samples of any of our materials and trims, and digital photos or sketches as desired.
Lamp Shade Shapes
Round, oval, square, rectangle, hexagon, octagon, cut-corner square, cut-corner rectangle, and twelve panel lamp shade frames are available in a number of standard sizes. We also have unusual lamp shade shapes built on specialty frames, some on our website, some not. For an additional fee we can design and make a custom shape lamp shade frame as well.
We have a large number of patterns for round and oval lamp shades without interior frames, and can generate new ones as needed. There is a $25 pattern fee for round shades and a $40 one for ovals.
Determining Lamp Shade Size


For ovals, rectangle and cut-corner rectangles we also add the front-to-back dimensions.
To Place An Order
After the discussion and design phase (either at the lamp shop or online) we will provide a written estimate to make your custom lamp shade. Before we buy any materials you will need to make a deposit of approximately half the total amount. Our lead time is 8-10 weeks and you will be notified when your order is completed.
From outside the area: In addition to the estimate for your custom lamp shade, we will also include an estimate to ship your order. You will need to either send a check or call during shop hours with your credit card information to make a deposit and begin your order. We will mail a written order at that time, with the deposit noted. Please review the order and contact us immediately if there are any questions or changes. When your order is complete we will call or email with the balance due and shipping charges as well the tracking information.
We can make your perfect custom lamp shade, just contact us to get started or ask questions.
Case study:
Custom Arts & Crafts lamp shade »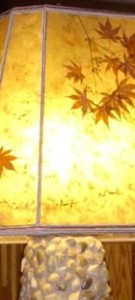 We design custom lamps in many styles too »
In the news:
Inspired House/ Taunton Press
How to choose a lamp shade. Guidelines and tips for choosing a shade that works. (download the PDF 541k)
SF Chronicle
"Berkeley: Creative twists light up Solano Ave. shop"
SF Chronicle
"Made in the Shade"
Contra Costa Times
"Don't put these lamps in a corner"
CLIENT Photo Galleries:
Custom lampshades at home Some of our clients share their photos >
CLIENTS:
Chez Panisse Berkeley
Absinthe San Francisco
Oliveto's Oakland
Bay Wolf Oakland
Manka's Inverness Lodge Inverness
Picante Berkeley
Le Bateau Ivre Berkeley
Chalker's Billiards Emeryville, San Francisco
Citron Oakland
Zen Center Marin
UC Berkeley Library Berkeley
Wolf Coffee Co. Petaluma
Olivia Berkeley