Design Lamp Shades For Table Lamps
"A good place to start is with the lamp's shape. If you can pick up a detail of the base's shape in the shade, you'll produce a harmonious look."
Sue Johnson
We create a range of floor lamps, and ceiling and wall lighting, but our business is centered on designing lamp shades for table lamps. We purchase interesting objects and wire them into lamps, we turn our clients' objects into lamps, and we make replacement lampshades. In all of these instances designing lampshades is an integral part of creating a pleasing, if not stunning, lamp and adding a unique and special focal point of your décor.
When designing lamp shades for table lamps we first consider the shape and proportion of the lamp – its height, width, volume and shape. We also consider any colors, patterns or designs on the lamp itself.
In many cases there are a number of good lamp shade choices: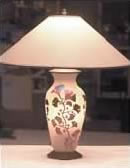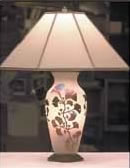 1. How is this table lamp going to be used – for general illumination, for reading, as an accent, etc.?
If you want to use 100 watt bulbs you need to have shades with larger top openings, although the growing use of compact fluorescent bulbs, with their lower heat, is reducing that restriction. You might also consider wiring your lamp with a double-headed socket arrangement.
2. Where is this lamp going to sit? What size and shape is the table?
Ovals and rectangles fit more comfortably on narrower spaces and also leave more open room on a table or desk.
3. What is the general decorative style in the room this lamp will go? What colors or shapes do you want to accentuate?
In addition to the color and styling of your lamp, you might also want to consider the colors and themes on your walls, your furnishings, rugs, accessories or art-work.
" That being said…I feel like the most important consideration is that we, the customer, the lampshade maker, we fall in love with a lamp and shade combination. We should allow ourselves the opportunity to find a spectacular shade for our lamp, and then take it home to see how it works with the rest of our life's treasures. We can always consider function, design and style, but let's first treat ourselves to the transformative experience of light coming through our shades."
We have a number of mica colors, to which we can add colorful leaves and colorful textures and patterns. We can tone parchment paper to any shade and we also can add color to a white or off-white shade by using a mix of soutaches, cords and grosgrain ribbon.
Lampshades Are Very Effective Decorating Tools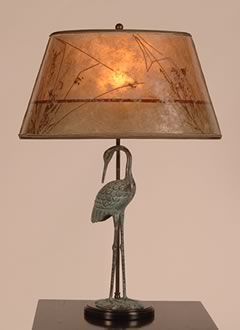 Tall egret lamp + marsh scene mica shade
Lamp and shade relate in theme, color, and mood. The oval shape of the shade keeps its "footprint" small like the lamp but is not as harsh as a rectangle and it works better with the round base of the lamp. There are a lot of oval shapes in the bird as well.
The shade is open enough to accommodate higher wattages. It works well both in the living room and as a bedside lamp.
Small Corn maiden lamp shade ties in with shape, colors (including a small touch of turquoise in the trim), repeat of pattern in border of shade. Shades need to be 6" tall to fit over the bulb/socket combination, so there is a limit to how small a shade can be. The figurine arm lifts the shade high enough over the small carved figure so that it doesn't overwhelm it. The proportion of tan and "white" are similar in the separate pieces, and helps to scale the square face of the shade down. An accent lamp.
Gold Bamboo Lamp shade ties in with shape, color and theme. The strong presence of the negative-cut mulberry paper balances the rich color and simplicity of the base and gives it a striking presence.
Bring Your Lamps With You
When you need to get new shades for your lamps, it's more important to bring the lamps with you than to bring your old shades. As you see here, there is a range of styles, shapes, colors and techniques that can work well with each lamp and you can give new life to an old lamp by being open to different possibilities.
It also may be necessary or desirable to update the wiring or make some other adjustment to your lamps in the process of getting new lampshades, for example:
Shorten or lengthen the neck
Add a sturdier base
Add a harp-holder, or exchange your current harp for a taller (or shorter) one
Add a longer cord, or a line switch to the cord, for easier access.
We can help with any necessary adjustments to your lamp right here.
Custom Lamp shade design:
We design custom lamp shades »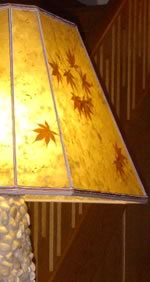 We design custom lamps in many styles too »