Mica Lamps & Shades
Mica lamps are synonymous with Arts & Crafts or Mission lighting in many people's minds. This is primarily due to the prevalent use of mica in lighting at the turn of the century when these styles were at their zenith. Amber mica lamps bathe a room with a magically welcoming glow.
Examples of Mission Style Mica Lamps
Contemporary Mica Lamps
Sue Johnson and the artisans working with her have been leading innovators in mica lamps and shades in Berkeley since 1972. The beauty and durability of mica in lamps has been long recognized, but by combining it with natural leaves and delicately cut designs they have expanded the decorative range available and brought mica lamps out of the Arts & Crafts niche and into the wider world of contemporary lighting.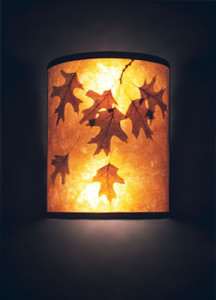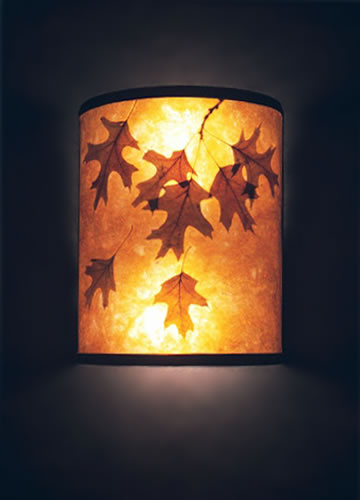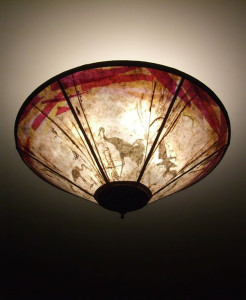 Art Glass and Natural Mica Lamps
Mica is a natural choice to use in combination with our studio art glass lamps. By adding layers of liners, and hand cut elements to her mica lamp shades, Sue and glass blower David Lindsay have created and extraordinary line of art glass and mica lamps. Examples: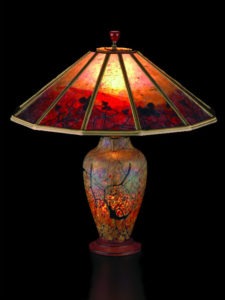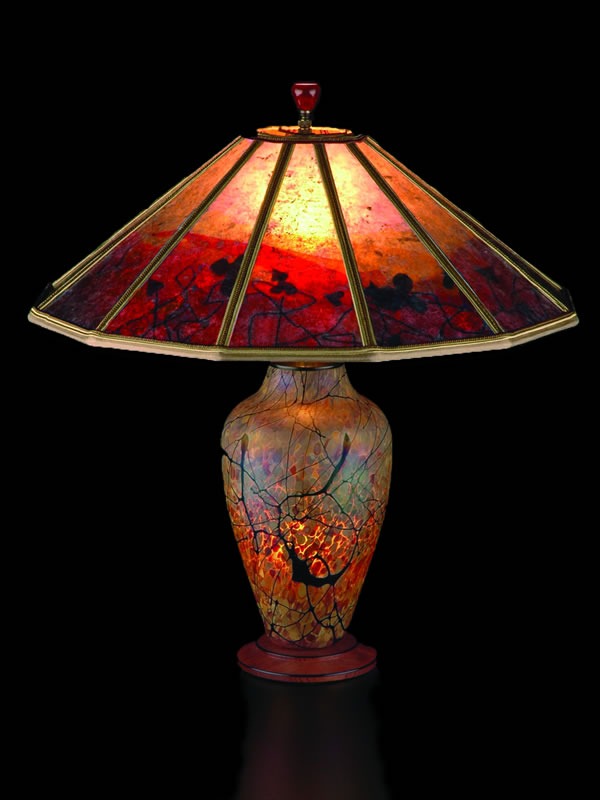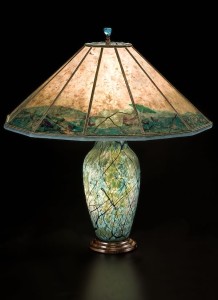 Mica Lamp Materials
Mica is a naturally occurring mineral with a number of industrial uses. It is also separated into flakes and recombined into sheets with various binding agents, and this is what we use to make our distinctive mica lamp shades.
We use three basic "colors" of mica, clear alkyd, green and amber. They also come in mineral-marked variants, some with red iron oxides.
The mica can be combined with various natural leaves, colorful liners, or hand-cut elements to create unique, custom lamps.
Lamp Shade Shapes & Availability
Mica lamp shades are round, oval, square, rectangle, hexagon, octagon, cut-corner square, cut-corner rectangle, and twelve panel, all available in a number of standard sizes. We also have specialty frames, some on our website, some not. For an additional fee we can design and make a custom frame as well. Please see our custom lamp shades page for more details. We are happy to send samples of our materials and trims upon request if you are unable to visit us. Almost all of our mica lampshades are available separately from the lamp bases they're shown with.
Artisan Handcrafted Mica Shades
Each of the distinctive and original lamp shades that you see on this site and in the lamp shop is designed and created by Sue Johnson and her staff of artisans in Berkeley, California. They are inspired by the lamps they are paired with, the beauty of our Bay Area landscape, and the alluring glow of mica lighting.
As artists we are continually energized by the work that has gone into the lamp bases that we work to, we are uplifted by the enthusiasm and excitement that our customers bring, and we are grateful to be able to live by our creativity and craftsmanship.
See many of our mica lamps on our website.
We're happy to guide you through these spectacular mica lamp choices and help put a glow in your life. Just give us a call (510) 527-2623 or stop in the lamp shop.
Mica Lamp designs
Case study: