Do You Have Lamps That Need Repair?
Our wiring staff has many years experience providing lamp repair and rewiring services. We provide basic rewiring and restoration for table lamps, floor lamps, sconces and ceiling fixtures. We can diagnose your wiring problem and provide an accurate estimate to fix your lamp.
Have You Inherited A Family Heirloom?
Have you purchased an old lamp at a yard sale or flea market? We can check the wiring and make any necessary repairs to render it functional and safe.
Do You Have An Object You Would Like To Make Into A Lamp?
Bring it in and our staff can help you choose the best way to wire it into a functional, unique and personal lamp. Our shop is full of objects that we make into lamps, providing myriad examples of the possibilities available for displaying and wiring your object.
Are You Replacing Your Old Lamp Shades?
When you need to get new shades for your lamps, it's more important to bring the lamps with you than to bring your old shades. There is a range of styles, shapes, colors and techniques that can work well with each lamp and you can give new life to an old lamp by being open to different possibilities.
It also may be necessary or desirable to update the wiring or make some other adjustment to your lamps in the process of getting new lampshades, for example
Shorten or lengthen the neck
Add a sturdier base
Add a harp-holder, or exchange your current harp for a taller (or shorter) one
Add a longer cord, or a line switch to the cord, for easier access.
Our Lamp Wiring & Lamp Restoration Specialists
Hank Schmutz and Jorge Villegas do all of our lamp wiring. They make all of the lamps and fixtures in our Berkeley, CA lighting shop plus do lighting repairs, rewiring and custom lamp wiring.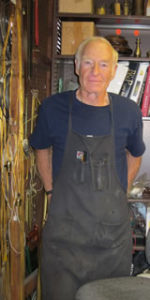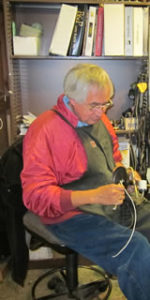 Hank's regular shop days are Sunday and Tuesday. Jorge is at the shop Monday, Wednesday, Friday and Saturday. There is no wiring staff in the shop on Thursdays but you are welcome to leave your lamp with us; we will write up a description of the problem, give a preliminary estimate, and provide you a written confirmation of receipt for your item.
We Are Open
Mon-Sat 12-6
We'll get your lamp repaired and bring it to life.  Here are directions and a map to our Berkeley Lighting shop >