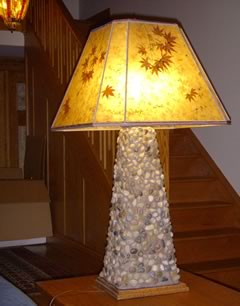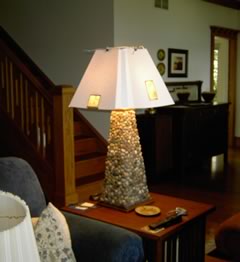 This couple lives in San Diego. During the summer they emailed us with the first photos of their lamp, with the pleated white shade on it, and asked about a mica shade, in keeping with their Arts and Crafts decor.
We sent a packet with mica samples, some including leaves, a cross section drawing of a cut-corner square shape that we thought would work – a little larger than the shade they had – and a drawing showing the top and bottom cut-corner shapes. These were full-sized drawings.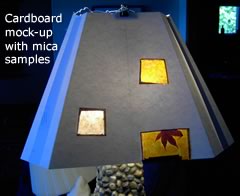 From the full sized drawings, they made a mock-up shade, cut holes in it and taped in various mica samples.
We even went so far as to find a substitute liner that blocked the glare of the bulbs (an unusual 3-bulb lamp), sending samples of that too.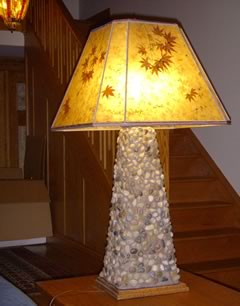 By the end of the summer they had made all their decisions – size, shape, mica color, leaves and liner, and trim.
And then we timed the shipping of the shade to coincide with their schedule.
Cut-corner custom mica shade with natural maple leaves
Lampshades Are a Very Effective Decorating Tool
Learn more about our custom lamp shades »