Fine Art Glass Lamps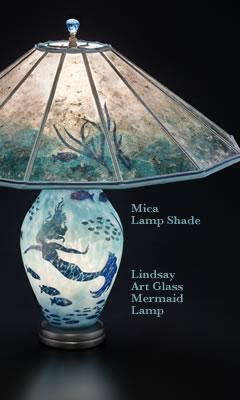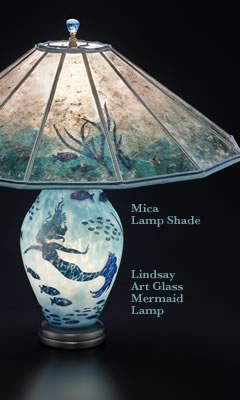 Our collection of
Fine Art Glass Lamps and hand blown art glass lighting
Almost all of of our Art Glass lamps and lighting, including artisan hand crafted, antique, limited edition or one-of-a-kind lamp bases and shades are items that you won't find anywhere else.
Art Glass Lighting
In recent years we have developed relationships with several local American glass artists and have wired their wonderful and distinctive pieces into spectacular lamps. These Art Glass Lamps have lights inside their bases, with the three-way switch illuminating the base alone, the shade alone, or both together. We show these lamps with mica lamp shades, hand cut paper lamp shades, and parchment paper shades with Japanese Tsuru paper borders.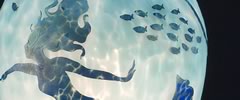 We introduced our newest series featuring the work of David Lindsay, of Lindsay Art Glass, paired with Sue's inspired, colorful mica lamp shades.
Sue also purchases, when available, antique art glass pieces, notably Phoenix glass, which are similarly lighted inside and completed with appropriate shades. Lamp bases and shades can be purchased separately and customized to to create your perfect match. Please contact us for details.
Showing 1–12 of 20 results
Showing 1–12 of 20 results