Antique Metal Table Lamps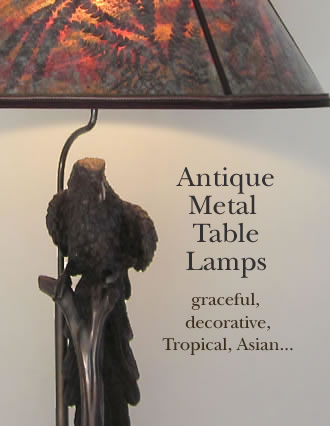 Almost all of of our antique metal table lamps – brass, patina, sculpted and carved, – limited edition or one-of-a-kind metal lamp bases and shades are items that you won't find anywhere else.
Antique metal vessels have always had special appeal to us. Because of its durability these pieces survive and we can savor their detailed work and graceful design. We are excited to highlight unusual antique metal lamps and call attention to the possibilities our exciting mica and parchment paper lamp shades offer in bringing these wonderful pieces into contemporary interiors.
In some instances we are able to oxidize antique brass pieces to achieve a beautiful bronze patina, in other cases we leave the original antique surface.
These are basically one-of-a-kind pieces, though we are always on the lookout for similar pieces and they are a staple of our inventory. We can also adapt the designs in our lampshades into other shapes and styles of lamp shade to accompany your existing lamp, or to use in ceiling or wall lighting.